ARTISTS - I know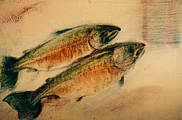 Munio's Camp Gallery
Munio Makuuchi
, my late friend, called himself a diamond in the rough*, and he's absolutely right, (* A fresh water yellow pearl "in the rough" found in the headwaters of the Mississippi River) This Collection of his writing,
From Lake Minidoka to Lake Me ndota
, is an Asian American life story in poetry and prose (and prints).
Web site is presented as a DPNimages.com web project.


Lynne Taetzsch Abstract Paintings
 Taetzsch (pronounced as one syllable rhyming with the letter "H") describes her painting process as analogous to the improvisation of a jazz musician.

Deborah Barlow
Painting, with its endless plasticity, is the best means I know of cajoling a peek-a-boo backside into view, if only for an instant. By defining its own sense of place, a painting can offer a glimpse into what is at the edge and beyond the reach of our common tools of perception. Technique plays an important part in my work. My approach is layeristic, and I innovate with materials and methods to achieve a finely tuned visuality that does not resemble traditional painting techniques.

Merlin Emrys
home page; Santa Fe Abstract Expressionist Painter. The ideas and shapes in my painting come from within, from thoughts, feelings, visions, nature. The important thing is to let the energies flow, and from that space to allow the paint and colors to form their own shapes. Cut to the chase, Merlin's
painting page
.

Martha Brooks Marshall
My current work is heavily layered and textured and invites the viewer to engage with it for its tactile as well as its visual qualities. Each piece is built up and torn down again, beginning with the application of many layers of paint, gels, and textural and collage elements, then scraped, sanded, and scrubbed, then built up again, until a surface is arrived at that pleases me. It is at that precise point that I destroy the pleasing surface and begin again. I don't want it to be too beautiful. I want to take it dangerously beyond repair, work again toward perfection, and then stop just in time.

Cheryl McClure
Texas abstract Landscape Painter. As a non-objective painter, the design of the work and the process of evaluating relationships are foremost in my mind. I'm always thinking about the relationships between the warm and the cool; the textured or busy and the smooth or restful; or the organic versus the geometric. Organic shapes seem to dominate my work so I think a lot about organizing those shapes.

Stephen Duren
Michigan abstractionist painter. The formal push/pull of space in Duren's landscapes becomes a prototype of "place" through our active involvement with the image. As we see these paintings shift back and forth between formal elements (color, line, and shape), and then shift again between representation and abstraction, we encounter a complicated experience of looking and perceiving that mimics the way we experience the world.
Place and Form
by Conrad Baaker writing on Stephen's painting.

Abstract Art by Paul Herriott
Herriott bases his concepts upon basic forms and astronomic influences, the cube, the sphere, the triangle, ellipse, hexagon, octagon. He loves the beauty of the ical, pyramidal. Abstract shapes and forms, drawn, painted and shaped in deep perspective, with the effect of the dimensions of the forms evolving from the returning to attempt to disappear into the painting.

Art of Your Mind - Abstract Paintings by Nathan John Strother
I love the biomorphic thing. There is really nothing hugely complex in my abstract art. Just getting an idea is exciting, as I think about certain shapes and their relationship to each other. And then visualizing it through to completion is satisfying.


Jason S. Cardenas
: Oil Landscapes, Still Life, and Non-Objective Abstract painting.

Marilyn Kirsch
: Abstract Paintings, Drawings, Collages, Mixed Media on
Paper and Solar Etchings.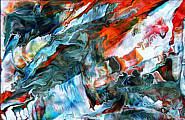 Marti Garaughty
Abstract Realism... new paintings & limited edition prints.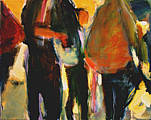 Bob Dornberg
: Expressionist Paintings. I choose the subjects
of my paintings from slices of life around me, tailored by
experience and imagination.

Kelly Moore
: Kelly Moore is a Self Taught Artist who has no formal training or education in art. His Original, Expressive work has been referred to as Outsider Art, Art Brut and Visionary Art. His intuitive style and technique reflects a raw, primitive quality that is frequently juxtaposed with a startling innocence.
Duality is a frequent theme in Moore's work, "Art makes me transparent, an internal excavation. Some days it's Gold and somedays it's mud. Either way, that's who I am and it will always be a perfect thumb print of my soul."

Anne Stahl
: Abstract landscape painting. My work is inspired by the natural world. Its beauty and its cruelty. Its hostility and its hospitality. Its paradoxes and its contrasts.

Karl H. Maenz
: The purpose of this site is to show my photos and paintings to friends and interested people around the world. To perhaps create with time a thing of beauty, of enjoyment and out of the ordinary. And to encourage an occasional intelligent dialogue with like-minded people.
In my photos I try to show "the world about me", and preferably portraits of what takes some patience to see.
My painting's only purpose is to express artistically what goes on inside me, the "world within me", and have fun doing so. It's not a business.

Lorraine G. Huber
: Abstract paintings by Scottish abstract artist Lorraine G. Huber; mixed media paintings and collages. Visit her web site and experience the
journey
within.

Filiz emma Soyak
: I describe my work as a cocktail of past, present and future experiences and accomplishments. Born in Belgium to a Swedish mother and Turkish father, my family moved to Japan when I was 6. Spending a large part of my childhood there influenced my life and character. I graduated from the University of Vermont in 2001 with a BA in Studio Art and minor degrees in Japanese and Business. I lived in Charlotte, NC for the past two years and now live in Boston, working out of a studio in Somerville.

Ernie Gerzabek
: With my background as an architect, I tend to 'cut to the chase' and try to capture the essential elements of a visual experience, hence my leaning towards minimalism and abstraction. All superfluous detail is minimised or eliminated, only the lasting and significant is emphasized and captured. Ernie's abstract landscape web page
Abstract Landscape Paintings
.

Bob Heatly
: In 1988-92, I called the type of painting that I am doing the PATMOS series. Before that VESTIGES or ISLAND VESTIGES. TOWNSCAPES has been my defining term since 2002. Another artist described it as contemporary digital cubism. Since I am beginning to use the same method to paint people, flowers, windows, etc., maybe I need a new name for what I do.

Ioan Popei
: Abstract art by Ioan Popei. Hand painted religious icons on wood and abstract oil paintings by Ioan Popei.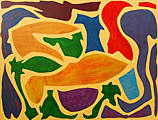 Keith Garrow
: Abstract paintings by Keith Garrow. Unique and original abstract oil paintings by British artist Keith Garrow. Purchase artworks direct from the artist.

Stephen Gostt
Stephen writes, "

perhaps the new work is something of an epiphany that finally reaches past the veil of the physical and soars with new eyes and life: to live by 'spirit'. The paint is unforced and unselfconscious now. The vision necessarily notated simply, reverently: finesse and virtuosity giving way to quiet medative observance; accepting the simplicity of the act in the moment of it's creation; as in the gift of it's vision."

Keith Morant
In my painting I try to emulate the power of music and evoke the universal through the specific. It seems that this is only achieved when certain synchronizations of concious and unconscious mentality is attained. I often seem to be working at the very edge of my mind where I become deeply involved with the great dichotomy of the known and the unknown. It is like treading a fine tightrope across the abyss between meaning and futility, and the further I move out the more I leave logic and conscious reasoning behind.

Walter Ungerer
is a longtime filmmaker and artist of international reputation, beginning with the underground film scene of NYC in the early 1960s, continuing through to his own experimental short films and features in Vermont from the late '60s to the 21st Century. Ungerer moved from Vermont to Maine in 2003, and continues to make films and videos there. His most recently completed film, SUCH AS IT IS, is being showcased at several festivals (Atlanta Film Festival; Green Festival, South Korea; Indie, USA, Los Angeles; International Festival de Nuit, Paris, France; Syracuse International Film Festival) in 2008 and is distributed by Glimz, Sweden; and Propeller, UK.

DarkHorse Films
is a non-profit film and video production company that produces and distributes "media as art". Established in 1976 in Montpelier, Vermont, the company for several years offered CETA film production internships to people interested in pursuing a career in motion picture production. Today the primary concern of Dark Horse Films is to support the work of its founder Walter Ungerer.

Matthew Beall
is an American artist who has lived in Germany since 2000. His often monumentally scaled paintings are concerned with linguistic structures and ways art can bridge cultural divides and boundaries. He is intrigued with innovative methods of establishing collaborations with artists and others that span continents and create new and thought provoking art forms in the process.
Jazz, particularly the work of Monk, Brubeck, Davis and Coltraine, informs the cadence of his art. But so too does bits and pieces of architectural details, landscapes, food, sports, snippets of history, and the deep imprint of art and human renderings found in every culture throughout the world.

Maureen Costantino
 Northern Virginia Photographer. All photographs are scanned electronically and digitally enhanced. Theme -- it is the shapes, colors, and patterns abundant in nature -- landscapes, flowers, animals, Canadian travelscapes, and the moods of coastal North Carolina in waterscapes, macro life in the plant world.
back to index

ARTISTS - I like but don't know


back to index
Bloggers


back to index
GALLERIES
---
Affiliated―
LA NOUVELLE GALERIE
at
"Monkdogz Urban Art, Inc./New York
.

---
back to index